---
Contact 3WK.COM
Tech Support/Music:
Jim Atkinson
General or Membership::
Wanda Atkinson
---
Who we are
Jim Atkinson - Owner/Program Director
Wanda Atkinson - Owner/General Manger/Music Director
James Atkinson 5 - Classic Alternative Music Director
---
Artist Submissions
If you think your music fits the 3WK sound, we'd love to hear it. All of our content is drawn from the Youtube catalogue. E-mail
Jim Atkinson
with a link to your music videos on Youtube. If you're an artist that would like airplay on 3WK.COM, we highly encourage you to have your entire album available on Youtube.
---
Why we do 3WK
It's the music, baby! it's certainly not the hours, wages, and benefits (tons, none, and none). it's coming to work and finding new music, any of which could be the best album of the year. it's going to garage sales and finding that long lost album we've been looking for forever. it's giving artists a free marketplace for their music and listeners a filter for all the great new and classic rock that they don't have time to discover on their own. but mostly it's the independent thing we love most - the freedom to play what we want, to work when we want, and to meet up with the smartest listeners on the net.
thank you for letting us do this since 1997.
---
We value your privacy as much as we do ours. Any personal info you give us (signing up for a 3WK Membership or emailing us) will not be shared with outside parties except to the extent necessary to complete the Membership or to email you. To prevent unauthorized access, maintain data accuracy, and ensure the correct use of information, we have put in place appropriate physical, electronic, and managerial procedures to safeguard and secure the information we collect online.
If you have any questions about our privacy policy, email Wanda Atkinson .
---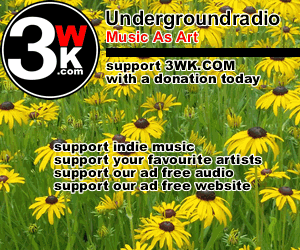 ---
---
---
Check out 3WK.COM daily for the latest Indie Music!

---
3WK.COM (c) 3WK L.L.C.
---
---
---