---
---
Home, Indie Chart, Music News, Contact, Donate/JoinNow, F.A.Q.
---
Contact 3WK.COM
Music or technical questions: Jim Atkinson - Owner/Program Director
General or Membership: Wanda Atkinson - Owner/General Manger/Music Director
James Atkinson 5 - ClassicAlternative Music Director
---
Music Submissions
If you think your music fits the 3WK.COM sound, we'd love to hear it. All of our content reflects the giant YouTube catalogue.
If you're an artist that would like to be included in the 3WK.COM playlists, we highly encourage you to have your entire album available as individual videos on YouTube. E-mail Jim Atkinson with a link to your music videos on YouTube.
---
Why We Do 3WK.COM
It's for our love of music, plain and simple. We have fun finding both new and old music we can turn you onto.
It's giving artists a free marketplace for their music and listeners a filter with our take on NewIndie, IndieCatalogue, ClassicAlternative, ClassicRock, ModernClassical, TraditionalClassical, and ClassicJazz.
---
Any API Clients on 3WK use the YouTube API Services. We value your privacy as much as we do ours. We do not collect any personal data using the YouTube API Client. Any personal info you give us (signing up for a 3WK Membership or emailing us) will not be shared with out side parties except to the extent necessary to complete the Membership or to email you. To prevent unauthorized access, maintain data accuracy, and ensure the correct use of information, we have put in place appropriate physical, electronic, and managerial procedures to safeguard and secure the information we collect online. If you have any questions about our privacy policy, email Jim Atkinson .
---
Home of the deepest catalogue.
Support 3WK.COM with a donation today.
---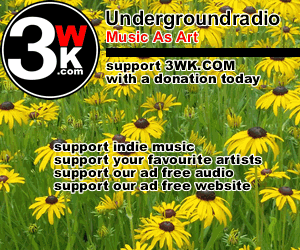 ---
Listen to 3WK.COM NewIndie daily to catch up on the latest releases.
---