---
---
Home, Indie Chart, Music News, Contact, Donate/JoinNow, F.A.Q.
---
Read 3WK.COM F.A.Q.
We're so excited here at 3WK.COM to be a part of the YouTube family! We've adapted to the times and moved to all YouTube playlists. You can now listen at 3WK.COM or in YouTube.
For a better listening experience, 3WK.COM has removed all audio and banner ads.
3WK has found many advantages in moving to YouTube including their huge catalogue and getting 3WK in front of the their giant audience. We encourage all artists, labels and promoters to make sure entire albums are available as individual videos on YouTube to make sure your music can be included on 3WK.
To listen to 3WK in a minimized player on desktop or mobile devices, we recommmend subscribing to YouTube Premium (we do not make any money from YouTube). Wanda and I signed up for a YouTube Premium multi user acct. We listen on multiple devices in our office and cars (bluetoothed to the car stereo).
3WK continues to to do all we can to be your spot on the net for the coolest NewIndie, IndieCatalogue, ClassicAlternative, ClassicRock, ModernClassical, TraditionalClassical, and ClassicJazz.
As we no longer run audio ads asking you to join, please remember to help out the cause by making a 3WK.COM Member Donation in any amount or support 3WK thru an ongoing membership. Thanks in advance for your continued support. Write [email protected] with any questions or feedback.
---
Home of the deepest catalogue.
Support 3WK.COM with a donation today.
---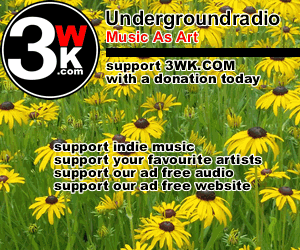 ---
Listen to 3WK.COM NewIndie daily to catch up on the latest releases.
---