---
3WK Classic Undergroundradio was built as a way of honouring groundbreaking late 60's/early 70's progressive rock stations like:
ABC-FM Love, CFRA-AM Ottawa ON (Brian Murphy late night), CHOM-FM Montreal QC, CHUM-FM Toronto ON, CJOM Windsor ON, CKFH-AM Toronto ON (Big G. Walters' "Whole Bag"), CKGM-FM Montreal QC, CKLG-FM Vancouver BC, KAAY-AM Little Rock AR (Clyde Clifford's "Beaker Street"), KABC-FM Los Angeles CA, KADI St. Louis MO, KAUM Houston TX, KBEY-FM Kansas City MO, KDKB Phoenix AZ, KFH-FM Wichita KS, KFML AM/FM Denver CO, KGO-FM San Francisco CA, KCJC-FM Kansas City MO, KISW-FM Seattle WA, KLOS Los Angeles CA, KMET-FM Los Angeles CA, KMPX-FM San Francisco CA, KMYR-FM Denver CO, KOL-FM Seattle WA, KOME-FM San Jose CA, KPFA-FM Berkeley CA, KPFT-FM Houston TX, KPPC-FM Pasadena CA, KPRI-FM San Diego CA, KQRS-FM Minneapolis MN, KQV-FM Pittsburgh PA, KRST Albuquerque NM, KSAN-FM San Francisco CA, KSEA-FM San Diego CA, KSFX-FM San Francisco CA, KSHE St. Louis MO, KWFM Tucson AZ, KWK AM/FM St. Louis MO, KWKI Kansas City MO, KWST-FM Los Angeles CA, KXYZ-FM Houston TX, KZEL Eugene OR, KZEW-FM Dallas TX, WAAF-FM Worcester MA, WABC-FM New York NY, WABX Detroit MI, WAMO-FM (Brother Love Underground Program) Pittsburgh PA, WBAI New York NY, WBCN Boston MA, WCAR-AM Detroit MI, WCFL-AM Chicago IL (Ron Britain's "Subterranean Circus"), WDAI Chicago IL, WDVE Pittsburgh PA, WEBN-FM Cincinatti OH, WFMU-FM Jersey City NJ, WGLD-FM Chicago IL, WGOE-FM Richmond VA, WHFS Washington DC, WIBA-FM Madison WI, WILS-FM Lansing MI, WIOT-FM Toledo OH, WJDX-FM Jackson MS, WKNR-FM Detroit MI, WKTK Baltimore MD, WLAV-FM Grand Rapids MI, WLIR Long Island NY, WLS-FM Chicago IL, WMMR Philadelphia PA, WMMS-FM Cleveland OH, WMUM-FM Palm Beach, FL, WNAP-FM Indianapolis IN, WNCR-FM Cleveland OH, WNEW-FM New York NY, WNRZ Ann Arbor MI, WNTN-AM Newton MA, WOR-FM New York NY, WORJ-FM Orlando, WPLJ New York NY, WPLO-FM Atlanta GA, WPLR-FM New Haven CT, WREK-FM Atlanta GA, WRIF Detroit MI, WSAN-AM Allentown PA, WSEO-FM Kalamazoo MI, WSGR-FM Port Huron MI, WVIC-FM East Lansing MI, WWWW Detroit MI, WWOM-FM New Orleans LA, WXFM-FM Chicago IL (Triad Freeform Radio), WXRT-FM Chicago IL, WXYZ-FM Detroit MI, WYDD Pittsburgh PA, WYSL-FM Buffalo NY, WZMF-FM Milwaukee WI and many, many more...
(please let us know if you'd like an undergroundradio station listed that meant a lot to you in the late 60's/early 70's).
---
Listen to 3WK.COM Classic Undergroundradio daily to the hear the deepest catalogue from the 60's/70's
---
---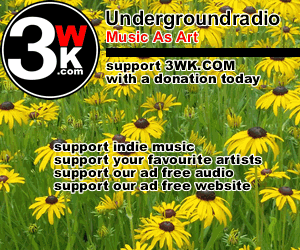 ---
---
---
Check out 3WK.COM daily for the latest Indie Music!

---
3WK.COM Classic Undergroundradio (c) 3WK L.L.C.
---
---